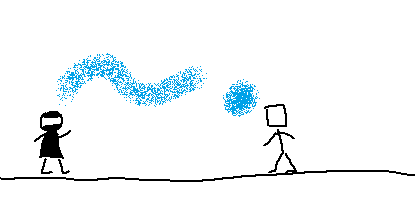 Let's talk about why you should be playing vanguard. Again.
Pull kicks ass. Sometimes I light up a shit ton of bogeys with pull and let Garrus snipe while they fly through the air.
The Shadow Broker's base's gravity is so low that anything you hit with pull?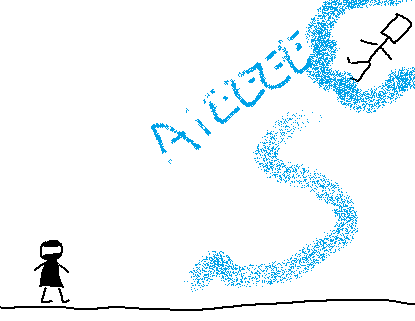 It just floats the fuck off.
The game forces you to use Liara in this section, but really, she's kind of a hindrance, because she keeps tossing stasis around and keeps baddies from floating up. If you could take Samara and Jack? Holy shit.
Right, anyway, let's bust into the Shadow Broker's base.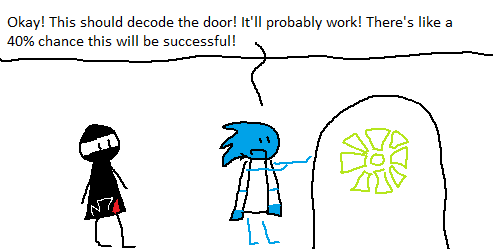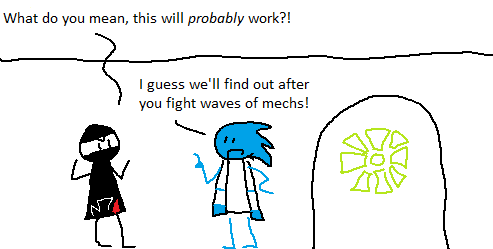 There's a cool game mechanic here. When you're not busting guys up with pull, find one of the lightning rods on the ship.

Once inside, who is it we meet?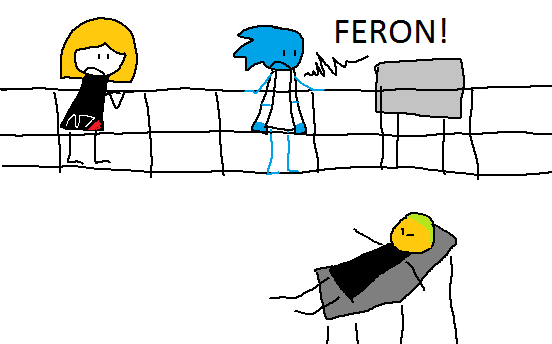 Ah hell! We all remember Feron, right?
Let's review really quick, because if you're not familiar with Feron and Redemption, this whole story makes no damn sense.
Shadow Broker had Shepard's dead body. He wanted to sell it to the collectors so that Harbinger could use it as a sex doll.
Feron the Shadow Broker agent is gonna make the deal go down.
Except for the fact that he meets Liara and decides to help her and Miranda get Shepard's body back.
Liara and Feron kick the Shadow Broker's ass and retrieve the body.
Surprise! Feron is a double agent, really working for Cerberus.
The Shadow Broker got pissed and tied Feron up as we see him today.
We all up to speed? Good.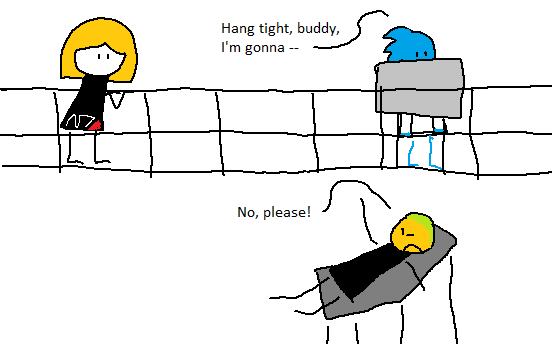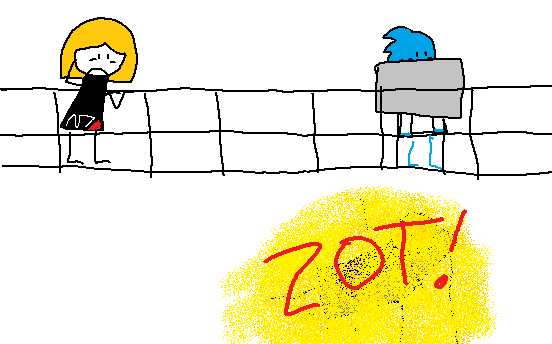 Fuckin'a, everything's just going to get shocked, isn't it.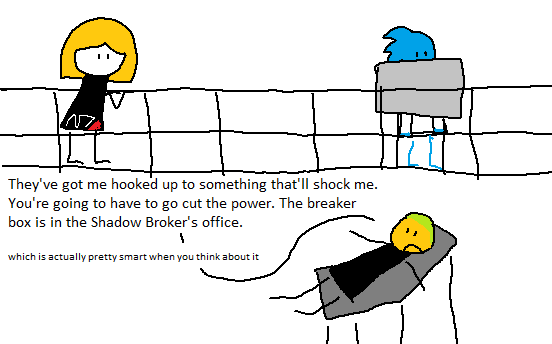 Seriously, because then you don't have to go futzing around in the garage.
Okay! But freals! Let's go see the Shadow Broker!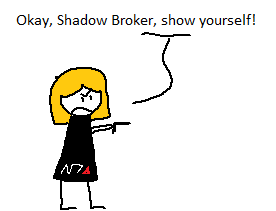 Oh, shit, sorry 'bout that one. Here, I'll extend the frame so you can see the Shadow Broker.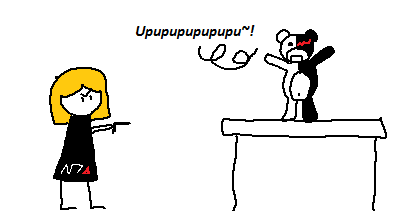 Okay, not really, but wouldn't you die? Wouldn't you die if fuckin' Monobear popped out.
Here, fine, here's the Shadow Broker: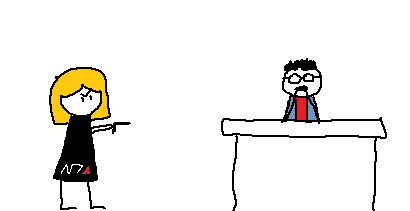 That's supposed to be Gendo Ikari, because I'm some kind of nerd comedian, I am. Hey, the Shadow Broker's sitting there in his best Gendo Ikari pose!
Speaking of, maybe I should actually draw that fucker.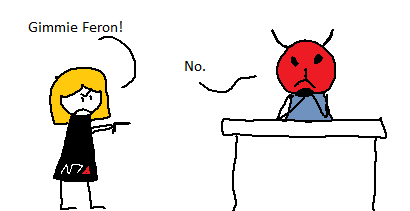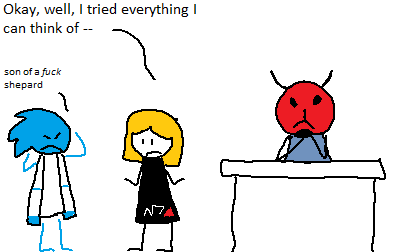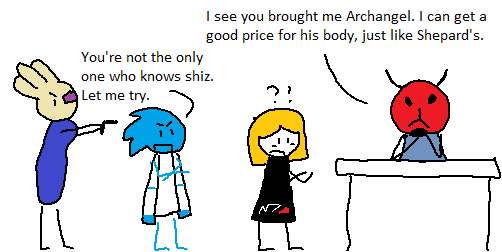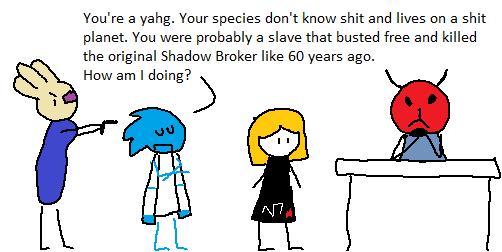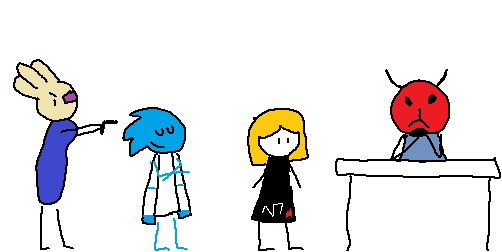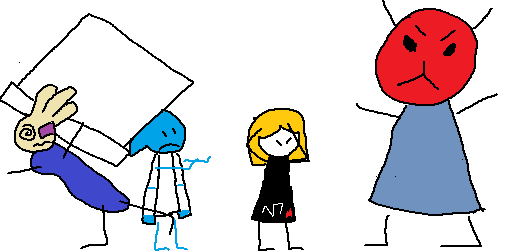 Touchy touchy, you giant red son of a bitch! Poor Garrus isn't in commission for this fight, on account of the fact that he's taken yet another projectile to the face and is out cold again. Poor dude.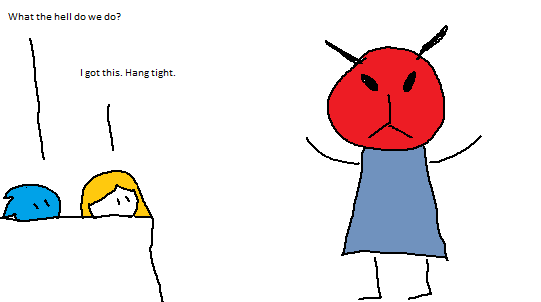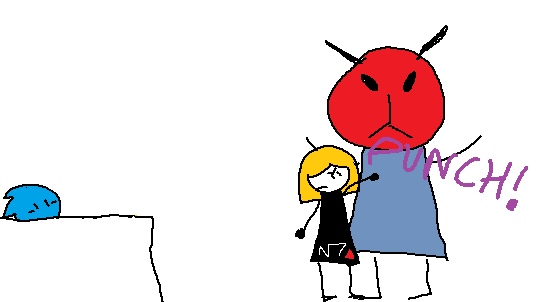 Have I mentioned Shepard is my favorite character? She just runs up and fucking punches the Shadow Broker in the face. That's how she do. It how she roll.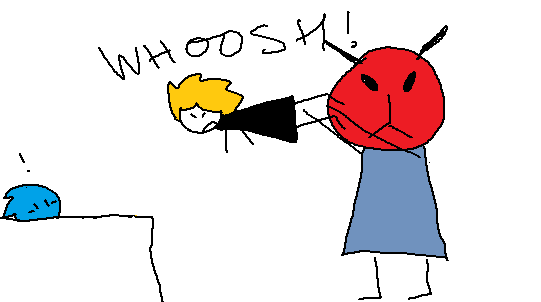 It also works out nicely for her.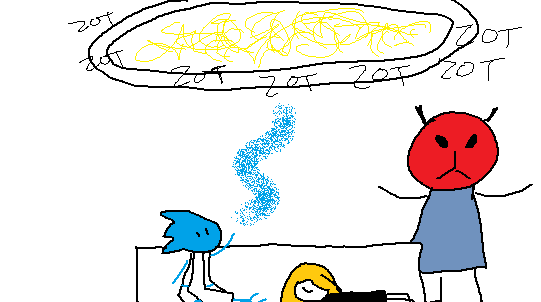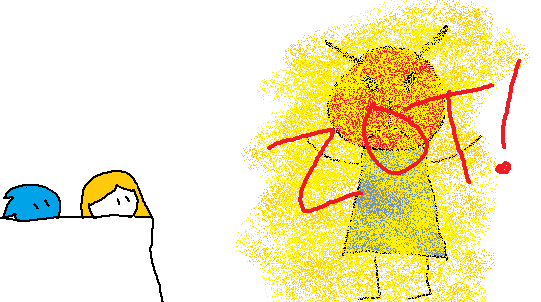 Everything gets electrocuted in this post. All of the everythings.
In the aftermath, Liara comes across the Shadow Broker's terminal, which he can't use right now on account of the fact that he's a burning husk.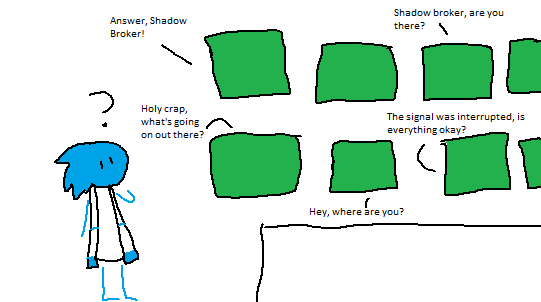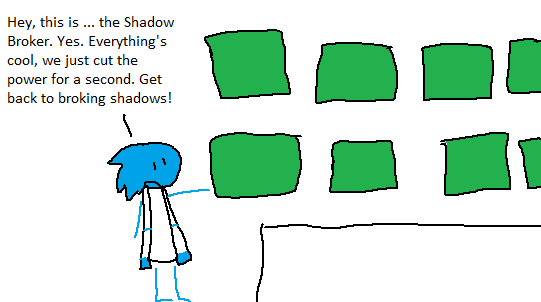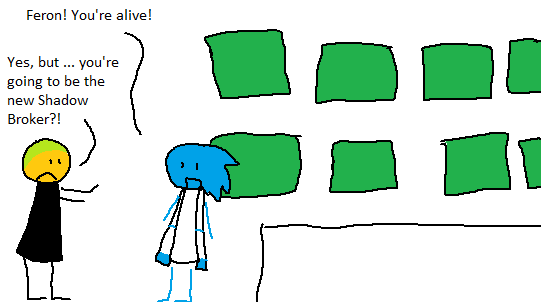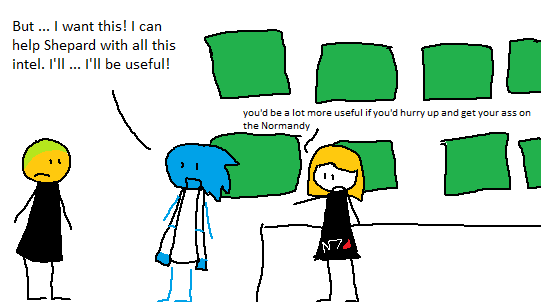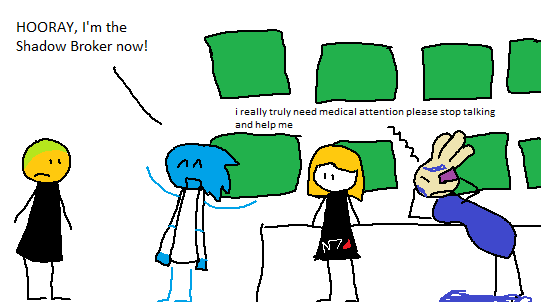 NEXT TIME: Garrus gets his third face of the game.